Cristina Margolis
Writer, Blogger,
 & ADHD Advocate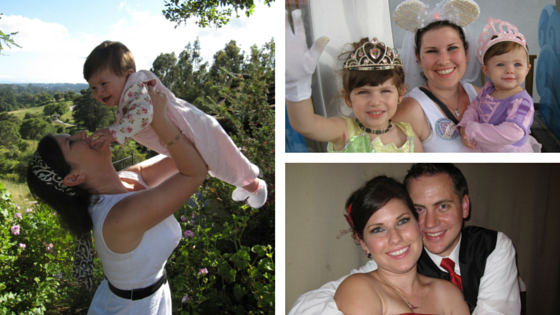 **Follow me on Facebook, Twitter, Pinterest, YouTube, and LinkedIn!**
Ciao! My name is Cristina. Nice to meet you! I'm an Italian 30-something year old born and raised in Silicon Valley and the happy, but exhausted mother of two – one with ADHD. I am addicted to coffee, Disney, baby laughs, and Spanx. I am pretty funny and am sometimes sarcastic, so if you have a good sense of humor and love to laugh about parenthood, you've come to the right place.
My Heart and Soul: I have been married to my college sweetheart since 2008. He was the first person with ADHD I ever loved. I have two beautiful little girls, Giuliana – my 8 year old drama queen and Annabella – my 6 year old dancing queen. Being a mother is amazing, but sometimes overwhelming. When Giuliana turned six months old, I resigned from my position at a university and became the devoted CEO of my household. Two years later, Annabella was born and my life has been nonstop, beautiful, wonderful mommy chaos ever since! Giuliana was diagnosed with ADHD (Combined type) when she was five years old.  Raising a child with ADHD keeps me on my toes while my youngest daughter is always on her toes (dancing). I also have an adorable, but mischievous dog named Lollipop.
Side Note – My Daycare: Being home with my young children was very rewarding, but I missed having an occupation and contributing to society (as well as contributing to my family's financial needs), so in 2013, I founded and began operating a licensed daycare I named It Takes A Village, because I truly believe "it takes a village to raise a child," although now I've learned that it takes an even bigger village to raise a child with ADHD.  (Another Side Note: This website was originally a blog for my daycare, so that is where many of the older art projects and activities posts came from, but then my blog ended up turning into something much, much, more.)
Everyday I'm Hustling': Due to family obligations, I had to close my daycare, which is when I became a blogger and writer.  The same month I started getting serious about writing, my first big article about ADHD was featured on Scary Mommy. I primarily write for ADDitude Magazine, ADDitude, and PopSugar, although you can also find my articles on The Mighty, Blunt Moms, and many more. I plan on creating programs to help benefit ADHD children as soon as I hit my goal on Patreon. I also create ADHD Awareness videos, Focused On Family (our family vlogs), as well as help my daughter with The Shiny Playground, a YouTube series she created for young children with ADHD. (What can I say? ADHD advocacy, spreading ADHD awareness, and making children with ADHD feel loved are passions of mine!)
Hobbies (Yea right, I'm a mom!): When I'm not busy advocating for ADHD and attending my children's dance recitals, school plays, and germs galore birthday parties, you will usually find me volunteering at my children's school, working on my children's book, making product/toy review videos with my kids, and trying to convince my husband to let us go to Disneyland yet again for another family vacation.  I'm a huge Disney fan! (Make sure to check out my Disney-inspired ADHD Memes!) I also used to be a staff writer for Tips From The Disney Diva and The Disney Moms.
That's a wrap!  Thank you, thank you! *takes a bow*
If you enjoy my blog and all of the hard work I do to bring ADHD Awareness to the world, please consider becoming an ADHD Awareness Contributor. You can receive free ADHD products, have you or your child featured as an ADHDmazing ADHDer of the week, choose the next blog topic, get name recognition for your support, and MORE.

SaveSave
SaveSave
SaveSave