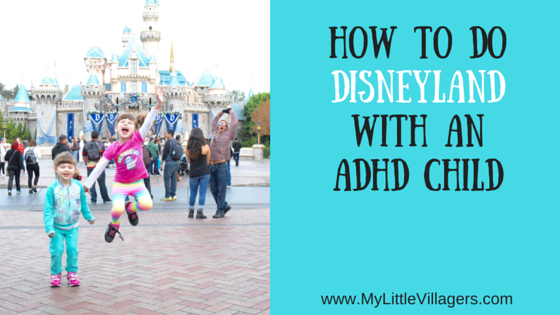 Visiting theme parks with children is so much fun! I'll never forget my ADHDer's smiling face when she first rode on Dumbo at Disneyland or when she got picked to talk to Crush at Disney's California Adventure. It was truly magical! As a parent to two young girls, one with ADHD, I also know that waiting in lines at the Disneyland Resort and other amusement parks can be downright stressful for the entire family. Waiting in long lines can feel like a lifetime for children with ADHD, so to help make your vacation be as less stressful as possible, here are some great tips for waiting in long lines: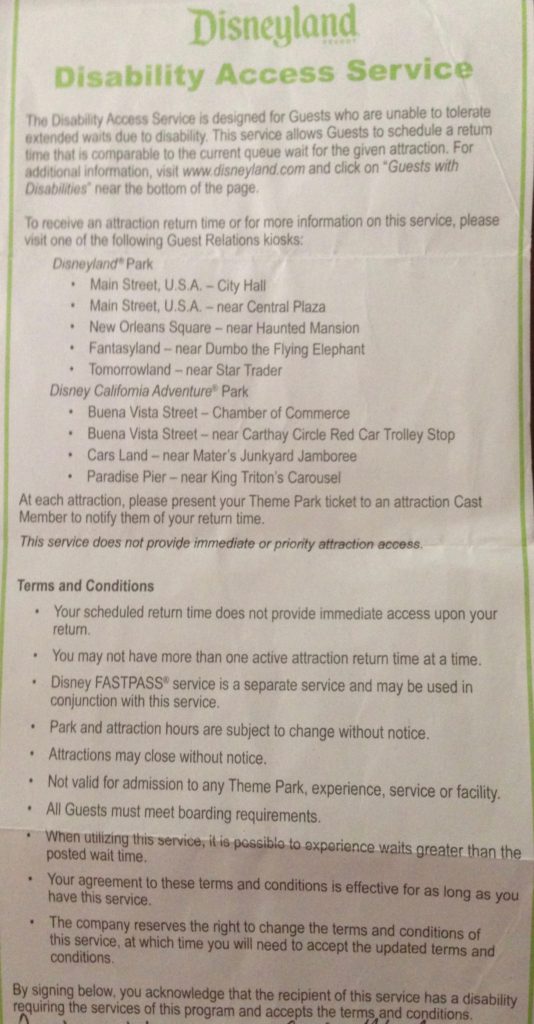 Disability Access Service Card: Many people don't know this, but children with ADHD qualify for a Disability Access Service Card at the Disneyland Resort, which works as a FASTPASS, but better, because it is for up to six guests in your party and for any ride at the Disneyland Resort, even the rides that don't issue FASTPASSes. Simply go to Guest Services with everyone in your party and tell them your child has ADHD and has a difficult time waiting in long lines. (No doctor's note is needed.) Also let them know how many days you will be staying at the resort and they will add that to your card as well. You will then be presented with a Disability Access Service Card. It is crucial that you do not lose it, so make sure to put it in a safe place along with your ticket/pass. Tell the Cast Member what ride you would like to go on and they will add that ride to everyone's ticket/pass through their computer system. You can then bypass the ride's long line by entering through the FASTPASS line or handicapped line, depending on what ride it is. After you have gone on the ride, you can add another ride to the Disability Access Service Card by visiting Guest Services. (Note: Look for the big green umbrellas in various locations. These are Guest Services stations that can do anything the main Guest Services building can do. You will save a lot of time by using the stations.)
FASTPASS: In conjunction with the Disability Access Service Card, you can beat the long lines at the Disneyland Resort by utilizing their free FASTPASS service. A FASTPASS is a ticket that allows you to bypass a lot of the line when you return to the attraction at a later time. FASTPASSes are available for mostly all of the major attractions, such as Space Mountain, Thunder Mountain Railroad, California Screamin', and Soarin' Over California. Simply look for the FASTPASS distribution sign, which is located near the entrance of an attraction. Insert your ticket or pass into the machine and your FASTPASS ticket will print out with your return time. Then go to the attraction's FASTPASS return entrance at the time the ticket says. (Note: A FASTPASS can also work in conjunction with a Rider Switch Pass, so your ADHDer gets to go through the FASTPASS line twice. There is no time constraint on a Rider Switch Pass, but it must be used that day.)
Timing: The Disneyland Resort is always crowded, which can be overwhelming and overstimulating for some children. In my experience, I have noticed that Disneyland tends to be a bit less crowded around noon and early afternoon, particularly in Fantasyland. Those are the times many children's attractions are less crowded since it is lunchtime and then naptime for most young children.
Toys: Bring small toys that can easily fit into your purse or a small backpack for your child to play with while they are waiting in lines for parades, shows, and restaurants. (Note: Don't bring anything expensive or irreplaceable just in case it gets lost.) I usually bring small figurines, a small water rings handheld game, and bubbles – the bubbles are my children's favorite and it keeps other kids in line entertained by popping bubbles as well. It's a great way for your child to make friends too!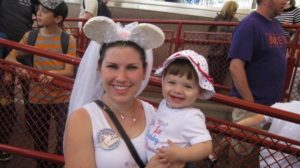 Games: Fun games like 20 Questions and I Spy are great games to play while waiting in line that make time go by faster for children. One of my ADHDer's favorite games to play is "Guess The Disney Character". We take turns thinking of a character and the other person has to guess who it is by asking questions, like "Are you a princess" and "Do you have a pet?" Before you know it, it will be your turn to ride!
Snacks: When all else fails, keep your child's little hands and mouth busy by giving them snacks to munch on while waiting in line. I usually carry fruit snacks or little containers of cereal or fish crackers in my purse. (Note: Don't put food in baggies. They will get squished. Also, anything in glass containers are not allowed at the Disneyland Resort, unless it is baby food.)
If you don't live near the park and need to fly in, such as our friends from across the pond who has a daughter also with ADHD, you could consider using a private aircraft or jet company like Jettly to give them plenty of space on the plane ride over and also allow them to be in a calm and safe environment. She always tells me that it's well worth the investment and her daughter always has a much calmer flight with just her family being on the plane rather than a group of strangers in a small space!
Do you have any other tips for taking your ADHDer to amusement parks? Please share in the comments below.
Parts of this article previously ran on Tips From The Disney Diva
If you enjoyed this blog post, please consider becoming an ADHD Awareness Contributor. You can receive free ADHD products, have you or your child featured as an ADHDmazing ADHDer of the week, choose the next blog topic, get name recognition for your support, and MORE.