This is a guest post written by Marie Miguel. Marie Miguel is an avid internet researcher. She is fueled by her determination to answer the many questions she hasn't been able to find the answer to anywhere else. When she finds these answers she likes to spread the knowledge to others seeking help. She is always looking for outlets to share her information, therefore she occasionally has her content published on different websites and blogs. Even though she doesn't run one for herself she loves contributing to others.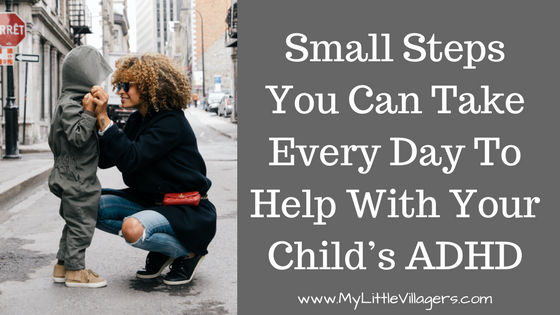 Whether your child was just recently diagnosed with Attention Deficit Hyperactivity Disorder (ADHD) or has been managing the side effects for a while, it's important to help your child manage it. Here are some small steps you can take every day to ensure that you are helping your child manage his or her ADHD in the best possible way:
Always communicate.
Talk with your child about how he or she is feeling on a daily basis. This could be when you both wake up and are commuting to school. It could be after school, when your child is settled in doing homework. You want to know when your child is happy, sad, or in between. That way, you can help him or her balance emotions and ensure coping methods are working. You could help your child make friends by establishing healthy ways to communicate at home. Make sure there is two-way communication. You could alleviate a lot of the warning signs and symptoms of ADHD by taking necessary time to talk with your child. Plus, it also improves your overall relationship.
Be positive.
If your child isn't listening to your or to instructions, be patient and kind. While this can sometimes be difficult, depending on the situation, try your best to remain calm. Remember that your child likely isn't engaging in this type of behavior on purpose. It's a side effect of ADHD. Try to not take things so seriously if it's a minor issue. Think of the future… will this really matter when your child is away at college and has grown up to learn to manage ADHD? Use situations as learning mechanisms for you and your child. Always find the silver lining. And always use positive reinforcement to teach your child what to do and what not to do.
Make sure you are taking time for yourself, too.
Don't let stress overwhelm you. Take adequate breaks and schedule time for yourself. If you are stressed, then you will most likely pass that stress on to those around you, including your child with ADHD. Talk with other like-minded individuals and those you love about any issues. Join a parenting group, and ask your child's physician for tips. Read parenting blogs to see what other parents are doing. If you're feeling overwhelmed, then talk with a mental health professional when you need it. A site like BetterHelp can give you advice and opportunities to talk with licensed mental health professionals in real time.
Have a schedule and be sure to stick with it.
When there's too much leeway with ordinary routines, then a child with ADHD could experience more symptoms. Have established time schedules and routines for waking up, mealtimes, bedtime, laying out clothing for the next day, homework and more. This will give your child structure and will teach him or her responsibility. Make sure the schedule is simple and doesn't overwhelm your child. Being organized with tasks and schedules will aid you both in the long run.
Give your child a balanced diet.
While this can sometimes be difficult if you and your family are always on the go, make sure your children are getting a balanced diet. A poor diet can make symptoms of ADHD worse in children — and adults. So, don't keep junk food in the house. Give your child a daily vitamin supplement. When you're at a restaurant, don't let your child have sugary drinks or foods or anything that is high in fat content.
If you want to read more tips about how to manage your child's ADHD on a daily basis, HelpGuide.org has a variety of advice for you and your child.
If you enjoyed this blog post, please consider becoming an ADHD Awareness Contributor. You can receive free ADHD products, have you or your child featured as an ADHDmazing ADHDer of the week, choose the next blog topic, get name recognition for your support, and MORE.