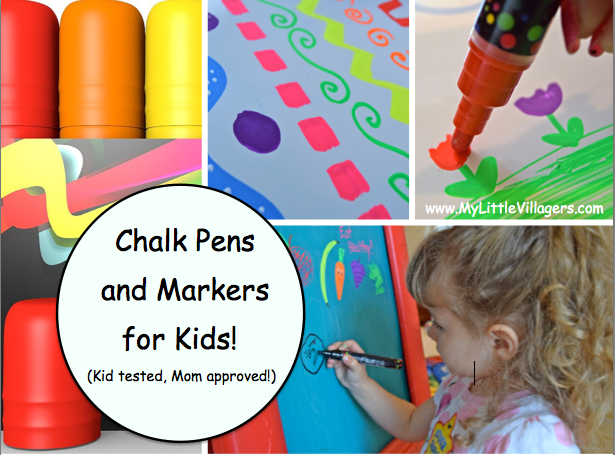 If your kids are anything like mine, they love to draw. Every day, they draw at least six pictures after school. While I do love filling my walls with their masterpieces, a change in art media would be nice for everyone's sake. My kids have a chalkboard that they hardly ever use, mainly because I find chalk too messy and the kids get frustrated by how easily the chalk breaks, even the very thick ones. I also can't stand that awful screeching noise the chalk makes on the chalkboard sometimes! Just thinking about it gives me the shivers! My kids and I also don't like how chalk smells. They would much rather draw on their whiteboard easel instead of their chalkboard, but all the whiteboard markers that are safe for kids don't seem to have very vibrant colors and smear easily. I thought my kids were stuck only drawing with Crayola markers on regular sheets of paper for the rest of their childhood until I was introduced to Chalkola pens and markers. Chalkola has provided my children with fun and great ways to tap into their artistic side and get creative. Chalkola products are best used on hard non porous surfaces, windows, whiteboards, mirrors, plastics, chalkboards, and LED boards. (I highly recommend getting your kids a Dual Chalkboard and Magnetic Whiteboard Easel.) So far, we have tried Chalkola pens and markers and I am very pleased with both. We are looking forward to what Chalkola has in store for my family next!
Chalkola Pens
(Click  on the image to order your own and use code: 
CHALK20A to get 20% off)
This fantastic ten piece set of premium wet wipe markers are vibrant and neon colored, unlike any washable whiteboard markers I have ever seen. The pens come in red, orange, yellow, green, blue, purple, pink, white, brown, and black. (Our favorite is green.) I tested these pens on a chalkboard and a whiteboard and they went on very nicely and smoothly on both surfaces. I couldn't use the white pen on the whiteboard, because the color would just disappear, so I made white polkadots over other colors and it worked perfectly. The other colors didn't run on the white tip like I expected it too either. It's like magic! Even my three year old was able to use these pens with ease. I feel good about my children using these pens, because they are child safe, non toxic, acid free, and have low odor. They are also water based and wash off very easily. My children and I got some of the ink on our hands and even my wooden kitchen table (That was the three year old's doing). The ink washed off of our hands easily in the sink. I am pleased to tell you that the ink also came off of the table easily with a wet paper towel and no damage was done.
Chalkola Markers
(Click  on the image to order your own and use code: CHK20OFF to get 20% off)
This jumbo eight piece set is called the Platinum Series and has the same colors as the pens except for black and brown. I was a bit disappointed that it didn't come with black and brown, but anything the markers can do, the pens can also do too, so it's not a huge deal as long as you have both sets. The markers' tips are 15mm, which is more than twice the size of the pen's. Because of the larger tip size, you can make bigger creations. I tested the markers out on a whiteboard and even my window. I have to admit, I was a bit nervous about drawing on my window, but I did it and it worked great! These markers would be great for creating Christmas, Easter, Halloween (and any other holiday or birthday) decorations on your windows. They would also be great for writing "Just Married" and drawing wedding bells on a limo's windows for a special bride and groom or writing "Class of 2016" and drawing a graduation cap and balloons on your child's car for graduation. The possibilities are endless! The ink came off easily with a wet paper towel, although it did leave smudges, but it was nothing a little Windex couldn't handle.
Cons:
It takes a while to get started. You have to shake each pen/marker for 30 seconds and then press the tip down and up for an average of 100 times (I counted) to get the ink flowing, but in my opinion, the pros outweigh this con.
The marker caps are a bit difficult for little children to remove by themselves, but again, this isn't that big of a deal since you will be there supervising them anyway so you can take the caps off for them. (Note: Chalkola products are meant for ages 3+)
This is the mom in me coming out, but I don't like the fact that the caps don't fit on the backs of the pens/markers. My kids are horrible with losing the caps, thus making the ink dry out, so I always tell them to put the cap on the back of their pen/marker so they won't lose it.
For more information on Chalkola, please visit the official Chalkola website.