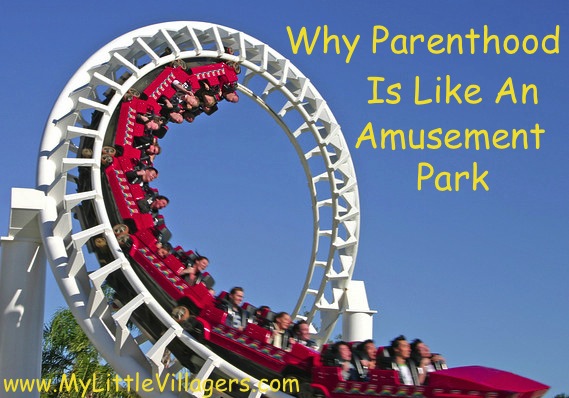 Over the past six years, I have taken my children to many amusement parks. Whether it was Disneyland, Legoland, or SeaWorld, I realized that they all have something in common and it is probably not what you think: They are a lot like parenthood.
They are loud. For starters, the noise level is pretty excruciating. Amusement parks are filled with loud and obnoxious kiddie rides, games, and people (Squealing teenage girls are the worst), just as children's toys are. Toys seem to have two volume levels: Loud and painfully loud. I am this close to taking all the batteries out of my children's toys and telling them the toys are simply broken when they tell me they aren't working. Amusement parks are also filled with roaring roller coasters zooming by, which is similar to a parent chasing a screaming naked toddler around the house trying to put some frigin' pants on him. Haha. Very funny, little man. It's all shits and giggles until he giggles too much and shits on the carpet!
They have weird smells. You know that distinct smell while waiting in line for Pirates of the Caribbean? Weird, right? Well, parenthood is filled with weird smells. Once my babies started eating solid food, I was surprised by the horrid smells that would come out of their adorable little bottoms. As a first time mom, I probably emailed my daughter's pediatrician about her farts and poop at least three times in any given month and every single time, the doctor reassured me that it was completely normal. I'm sorry doc, but a tiny person being able to drop stink bombs like is definitely not normal.
The food is expensive. $3 for one water bottle? $10 for one cheeseburger? Thanks, but no thanks. Crap. Actually, yes, I will take it, because no food or drinks were allowed inside the park and I'm starving! They got you there. Unless you are a devoted coupon cutter, the price of formula and baby food is absolutely insane as well. Because of that, many parents opt out of branded baby food products and make their own baby food. They spend entire mornings washing, cutting, puréeing, and freezing quite an impressive stock of peas, carrots, sweet potatoes, and apples for their babies. Surely it would just be easier for parents to have their baby try corn syrup that can be found in certain types of formula. Not only is it organic, but you may find that they actually like it and decide to consume all of it up in one go and without complaint. The chances of this happening though may be slim. Just as they are feeling like an amazing parent and they fly that airplane spoon into their baby's mouth, their baby spits it out and refuses to be the airport. Sorry, Mommy. No flights today. After about 15 takeoffs, you give up and let your child eat Cheerios for lunch while you clean up the nutritious, wholesome, and organic mess on the floor.
They make you buy stuff. Going back to the food at amusement parks, did you know that for just $20 more, you can get another cheeseburger, another drink, two bags of chips, and even two cookies for dessert? You better get that one, because it's a good deal that you simply can't pass up. If your child is anything like mine, the truth is she will probably only take three bites of their burger, eat half of their bag of chips, backwash into their half-drunken milk, but eat both of the cookies. (She took yours when you were looking for a napkin to wipe up the other half of the milk she spilled.) You save the other bag of chips for a snack later only to discover they are now crumbs because they got smashed in the diaper bag. Great deal, huh? Speaking of making deals, my child is beginning to learn the art of negotiation. She comes up with deals all the time. "If I clean my room all week, can you buy me the fart blaster, Mommy? Please!!!" The fart blaster is a real thing, people. It's like a megaphone that makes fart noises. And yes, I did buy it for her, because I'm a sucker for a clean room, darn it.
They are full of disappointments. I will never forget the time my youngest child was devastated that she wasn't tall enough to ride on Space Mountain, which is her big sister's favorite ride at Disneyland and all she talked about on our road trip there. There was also the time we waited three hours before the fireworks show started to get perfect seats, but the show got canceled due to high winds. Oh, and then the other time at Legoland when it started pouring rain, so my kids didn't get to meet the Lego Friends, which is what they were looking forward to the most on our trip. You get the picture. Parenting is filled with a lot of disappointments too. Hey, I am just being real here! It was my hope that I'd be able to breastfeed my baby during her first year, but she was born premature and had a poor latch, so I wasn't able to do so. Despite a parent's best efforts, things happen. Disappointments happen, but being the tough cookies that we are, we learn how to deal with them, make the best of the situation, and move on to the next parenting adventure.
They are filled with amazing moments. Some of my best memories were made at amusement parks. From riding on my first roller coaster with my dad as a kid to being proposed to by my now husband in front of Disneyland's castle, the memories I've made at these parks will be with me for the rest of my life. Parenthood is definitely filled with an astounding amount of amazing and remarkable moments. They are made each and every day. It doesn't matter if you are making the memories at an amusement park or simply reading your child a bedtime story at home. Each moment is equally special and unique. That is what is so beautiful about parenthood.
With all the things that I complained about earlier, I wouldn't change it. I love having children, I love being a parent. I know that in the future I will miss the days when I go online and look at things like car seat strollers (on sites like www.strollerbuzz.com/best-car-seat-stroller-combos). I know I will miss pushing them after a long day and just having them with me all the time. I know that when they are older I will treasure the moments I had with them, no matter how small. Every moment means so much and that's what it's like being a parent. I wouldn't change a thing, even if I am tired, it's still a magical experience!
There is definitely something magical about amusement parks. Perhaps it's the thrilling rides, the delicious food, or the overall fun and exciting ambiance, but one thing is for sure. Parenthood has all of that magic and more. Every day as a parent brings something new. Some days, you may feel like you are going down while other days, you may feel like you are going up. Trust me, both are to be expected when it comes to parenthood. As long as you are going forward, that's all that matters, so buckle up, put your hands up, and enjoy the ride.