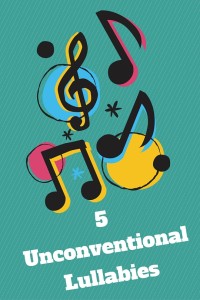 Music has always been a big part of my life.  My alarm clock wakes me up with music and I always have the radio on when I'm in the car.  I even clean the house better if there is music playing.  For the past six years, I have sung lullabies to my children at bedtime.  I am no Celine Dion by any means, but my children love it when I sing to them and it's something I have done since they were born.  Singing traditional lullabies, like "Hush Little Baby" and "Brahms's Lullaby" got boring and tiring pretty quickly, so I like to sing more unconventional and hip songs that make pretty awesome lullabies.  Here are my top five favorites:
How many nights have we spent holding our babies in our arms or simply watching them sleep in their crib so peacefully?  They look just like an angel, don't they?  As you stare at their perfection and gently caress their head, you wish they could stay like this forever.  You wish you could stay there forever.  You wish you didn't have to ever leave them, but when the daylight comes, you know you will have to slip away and head off to work.  Maroon 5 captures that moment and feeling perfectly.
2. "1, 2, 3, 4," by Plain White T's
We feel like we are the luckiest parents in the world to have been blessed with such an amazing child.  We constantly think to ourselves, "How did I get so lucky to have such a great kid?"  We could be having a horrible day, but our children always seem to find a way to brighten it and make us feel like we are the most special person on Earth.  They give us hugs for no reason and go out of their way to pick a flower for us.  Our children are incredibly easy to love and luckily for them, very difficult to stay mad at.  Our love for our children is unconditional and grows more and more every day.
3. "Just The Way You Are," by Bruno Mars
Our children are amazing, aren't they?  They astound us every day.  From the time they said their first word to the time they took their first steps, tears filled our eyes.  From the time they built their first tower of blocks to the time they began to read, proudness filled our hearts.  Their accomplishments keep on coming and keep getting bigger as they get older too.  It never ends, just like our love and affection for them never end.  As our children get older, they may become a bit self-conscious, but we love our children just the way they are.  It is our hope for our children that they will learn to love themselves just the way they are as well.
4. "I See The Light," by Mandy Moore and Zachary Levi
Of course I had to include a Disney song in the list!  The song from the film Tangled was beautifully written.  Before our children were born, we imagined what our lives would be like with them.  How different would life be with a brand new baby?  Although we were excited about our soon to be bundle of joy, we worried about our skill level as a parent.  Would we be able to handle the overwhelming responsibility of caring for a baby?  How would we know what to do if our baby was crying nonstop or refused to eat?  An overwhelming sense of worry and panic came over us and it got worse as the due date neared.  Once our babies were born though and we held them in our arms for the first time, like magic, we somehow automatically knew exactly what to do.  We knew how to soothe them and make them feel happy, calm, and content.  At that moment, our life was changed forever and it was changed for the better.
5. "Always Be My Baby," by Mariah Carey
They will, won't they?  When our children were little, all they ever wanted to do was spend time with us and play with us.  We were their whole world.  As they got older though, they began to have other interests and friends.  It was no longer "cool" to give us a nice, long hug when we dropped them off at school.  "Stop it, Mom!  My friends are watching!"  Sound familiar?  After school though, in the privacy of our home, our children come to us for those long hugs, love, and comfort.  If they had a bad day at school, they tell us about it and we always seem to know the right thing to say to cheer them up.  No matter how old they get, the bond we have with our children is eternal.  Whether they want to admit it or not, our children will always be our babies.