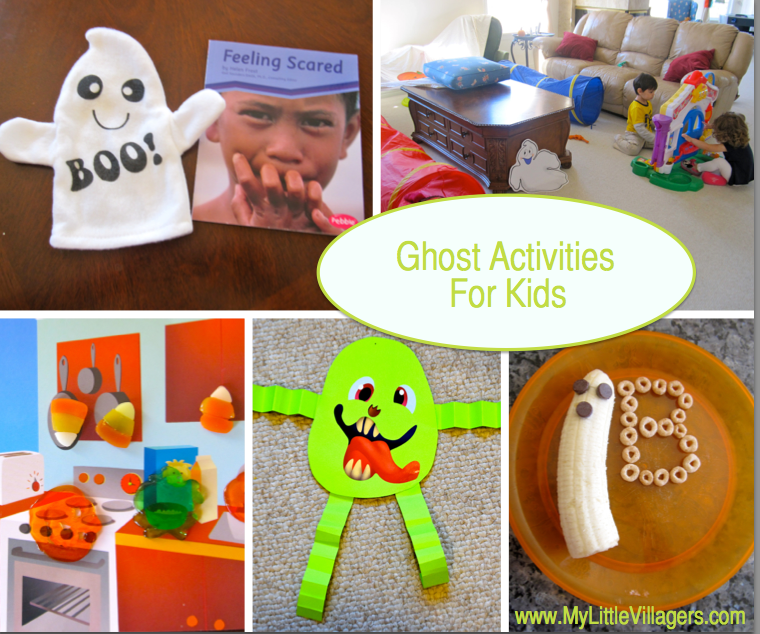 Here are some not-so-scary ghost activities to do with your children this Halloween!
Slimer (Ghostbusters) Craft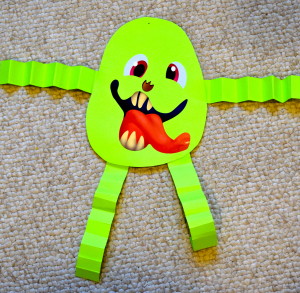 Materials:
Green Construction Paper
Scissors
Glue
Directions:
Use scissors to cut out a monster body shape as shown with green construction paper.
Use scissors to cut out four strips of green construction paper for the arms and legs.
Glue the arms to the back of the body.
Glue the legs to the back of the body.
Fold the arms in and out (like a harmonica).
Fold the legs in and out (like a harmonica).
Choose which monster funny faces stickers you want for your monster and apply them to the body.
Create A Haunting Scene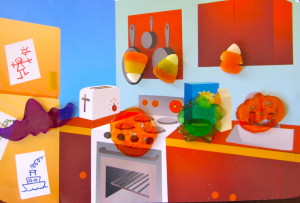 Instructions:
Print out or have your child draw a picture of a room.
Have your child use Halloween gel clings to decorate the picture of the room to turn it into a haunting scene.
Afterwards, let your child decorate the windows with the gel clings for a great Halloween decoration! This activity is great for fine motor skills!
Crete A Haunted Obstacle Course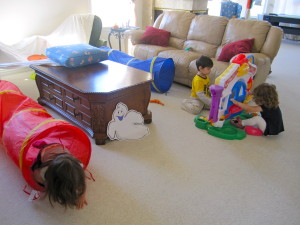 Instructions:
Help turn a room, your garden, or your front lawn into a haunted obstacle course! Get creative and let your child participate in the construction of it! Tunnel Toy Tents are a must and Halloween Placemats make great kid-friendly obstacle course elements as well as haunted house decorations for next year. Have dad "chase" them in a scary mask if they are feeling especially brave. Make some hurdles and weaves, and if outside you could buy traffic cones and use them to mark off the course or create runs. This activity is great for gross motor skills, but be careful with any jumps and runs, safety is key.
Feeling Scared Storytime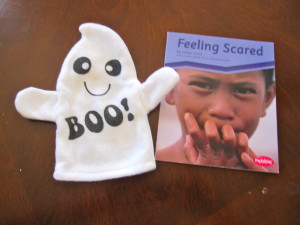 Instructions:
Everyone loves a scary story, but you can easily kick it up a notch by using a friendly-looking ghost puppet or ghost stuffed animal to help you read the book, Feeling Scared, by Helen Frost to your child. The short book covers the topics: Feeling Scared, What Makes You Scared, and Dealing With Fear. Talk with your child afterwards about what makes each of you feel scared and what you do to make you feel better.
B is for "Boo" Snack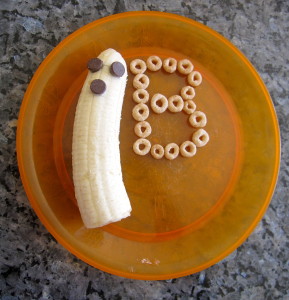 What You Need:
1 Banana
3 Chocolate Chips
Handful of Cheerios
Knife
Instructions:
Use a knife to slice one end of a banana.
Place three chocolate chips into the banana to make a "ghost" face.
Arrange a handful of Cheerios to form the letter B next to the "ghost."
Enjoy!
For more ghostly meals and treats, please see Halloween Tasty Treats!