This is a guest post written by Rachael Gallows. Rachael is the epic educator behind The Experienced Graduate. She provides free resources for parents of teens that are struggling in school. Rachael believes every teen has the capability to earn academic success on their own. You can connect with Rachael through Facebook or Twitter.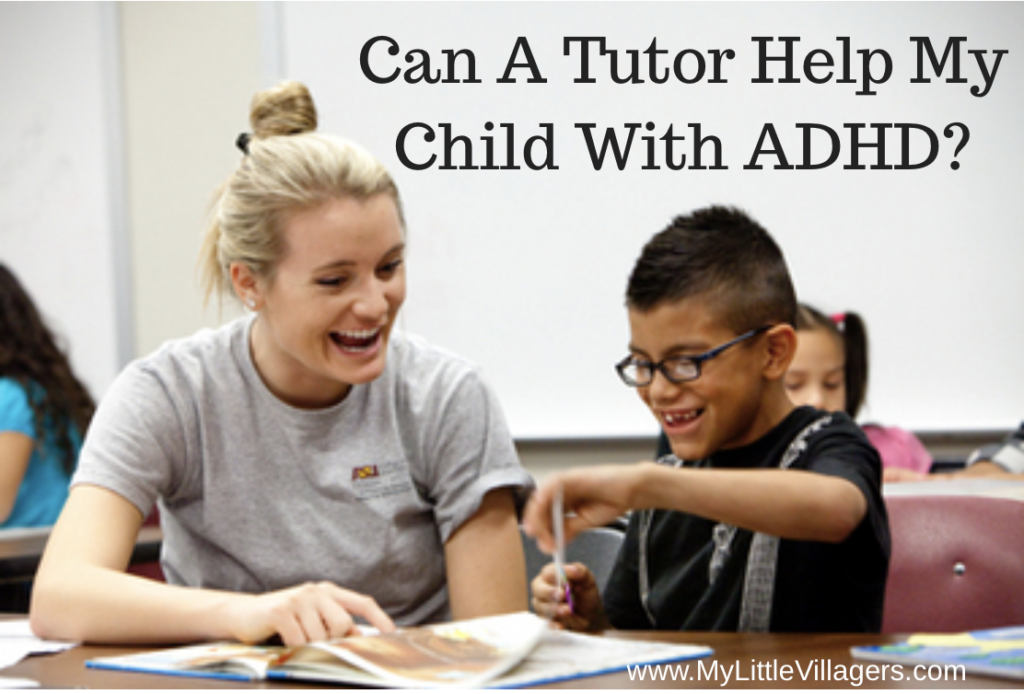 For many parents, academic struggles are an everyday part of life for their children with ADHD. Regular classroom learning becomes difficult, so parents may seek alternative methods of learning, such as teaching them the academic lessons at home. The majority of parents Google "find tutor near me" and are able to find a good tutor that will be able to help their child pretty quickly.
But many parents will spend hours on learning, homework, notes, assignments, and studying every single night. For parents with teens, the class projects become so intense, that both the parents and the student may stay up till 2:00am every single night. These parents are understandably exhausted and worn out, spending hours and hours night after night.
Hmm… Sound familiar?
Many exhausted parents want help, but question whether a tutor would benefit their child with ADHD, or whether it would be money, and time, wasted.
Getting a tutor for your child who is struggling in school could be the best thing for your child. A personal tutor can help your child with ADHD in several ways:
Tutoring is one on one. There is no group setting where your child can get lost or distracted. Your child's tutor will be able to walk with them step by step at your child's pace. Your tutor will teach them in the exact methods and learning styles your child needs to understand and comprehend any course material. With this individualized attention to learning, your child can thrive where they usually struggle in a class setting.
No more distractions or becoming unfocused. A personal tutor can tell the moment your child is no longer focused on the subject at hand. An experienced tutor can recognize when a student is distracted or "zoned out" and not really listening to the new information. The tutor then has the time and the personal connection to stop and refocus your child for more targeted learning.
Patience and care. A personal tutor has the time for extra patience and care with your child with ADHD. In a classroom setting, teachers do not always have the time to take with each individual student. Therefore, they teach to the group in a way that the majority will understand. But having a tutor allows for the patience and care for the learning style and learning difficulties of your individual child.
Teachers are tutors. Many teachers are also after school tutors. Teachers make the perfect tutors because nearly all teachers have special training, qualifications, and certifications for teaching students with learning disabilities. These teacher tutors understand the difficulties of learning with ADHD and can assist with the best approach possible to help your child.
But where can you find certified tutors? Well, there's a lot of tutors out there and if you're in the area, you can Check Out our Math Tutor Las Vegas recommendation here. But, if you're not, the below list gives you some top tips in finding a good tutor.
Teacher tutors. The best place to find tutors certified in teaching students with learning disabilities is through the tutor list provided by your child's school. All schools provide a list of approved tutors and every tutor on the list is a current teacher of the school. Schools do not recommend non-teachers due to accrediting and liability reasons. So you can be assured the tutors they recommend are highly trained and experienced.
Tutoring company. A tutoring company can provide you with a qualified tutor that is certified and educated with assisting students with ADHD. These tutors are also experienced. However, be prepared that some tutoring companies may charge you more for requesting extra certifications. So shopping around for several different tutoring companies may help you save money. Jon Paul could be a great example of a Math tutor, for instance, it is worth finding a tutor that specializes in the subject your student is struggling with.
Retired teachers. Finding a retired teacher may be the best option for certified tutors. Retired teachers hold the certifications and qualifications, but also have a large degree of flexibility in scheduling. Many retired teachers would also be a more affordable option than a current full-time teacher.
Student tutors. The most affordable option is to find a tutor that is still a student, maybe high school or college, that has a sibling or loved one with ADHD. These students, while attending school full-time can be a great fit for your child, because they are young and have high energy. Although they will not have certifications and training, they may understand the learning struggles your child goes through by watching their sibling or loved one with ADHD go through similar difficulties. Because these students are willing to work for $8 to $10 per hour, they are a much more affordable option for parents that can't afford a certified tutor.
Ultimately, a personal tutor can be the perfect tool for your child with ADHD to overcome learning struggles and earn academic success.
If you are considering a tutor for your child, download the Top 10 Questions to Find Your Perfect Tutor. The instant download is free and is exclusive for the My Little Villagers' fans.