This is a sponsored blog post for Mariacommunion.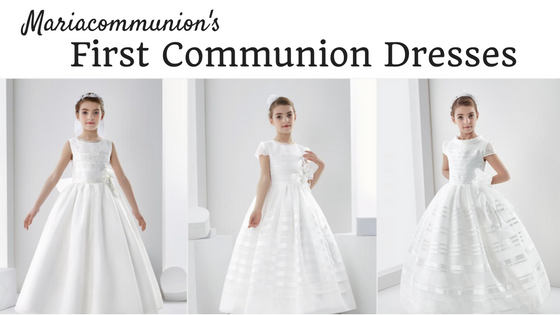 I was seven years old when I had my first holy communion. To prepare for my first communion, I attended Catholicism classes once a week after school. I learned the Our Father, Hail Mary, and Glory Be prayers. I learned how important and special it is to receive the body and blood of Christ and what it means to truly live and love like Jesus. I remember being very excited about the big day and finally being able to receive communion in church like my parents and big brother.
Just like most little girls, I was very excited about getting to wear one of the beautiful white communion dresses. I come from a large Italian family, so I have many older girl cousins. I always enjoyed watching them receive their first communion in church and attending their fun receptions afterwards. It was always a joyous day for the entire family. What I loved the most was seeing the gorgeous dresses my cousins were wearing, whether they were made of lace, silk, organza, or cotton.
Finally in 1992, it was my turn to wear one of those gorgeous communion dresses. Back then, there were't very many stores that sold dresses for first communions, so my mom took me to a local Catholic store (pretty much the only one in town) and we picked out a pretty lace dress for me.  I remember twirling in my dress in front of the store's mirror and feeling like I was on Cloud Nine. On the day of our first communion, my friends and I looked like little brides in our fancy first communion dresses and veils. (Fun Fact: Communion dresses are white, because they represent purity.)
Fast forward twenty-four years later and it's now my seven year old daughter's turn to have her first holy communion.  It would have been really neat to shop for first holy communion dresses together at the same store my mom and I went to, but that store closed a long time ago. Fortunately, there are online stores like Mariacommunion that carry a wide range of beautiful 1st holy communion dresses and provide "perfect designs at reasonable prices" (60% cheaper than their competitors.) What I love the most about Mariacommunion is that they carry many traditional style communion dresses that fall below the knee or at calf length and also cover the shoulders. (The gorgeous gown pictured on the left is my daughter's and my top pick.) It's really a one stop shop, because they also carry veils, headpieces, gloves, and even communion bags. Knowing my accessories-loving daughter, she'll want it all, and at these affordable prices, I'm happy to oblige. My hope for her and all little girls receiving their first communion is to feel as special and beautiful as I did twenty-four years ago.

first communion dresses custom made | Mariacommunion