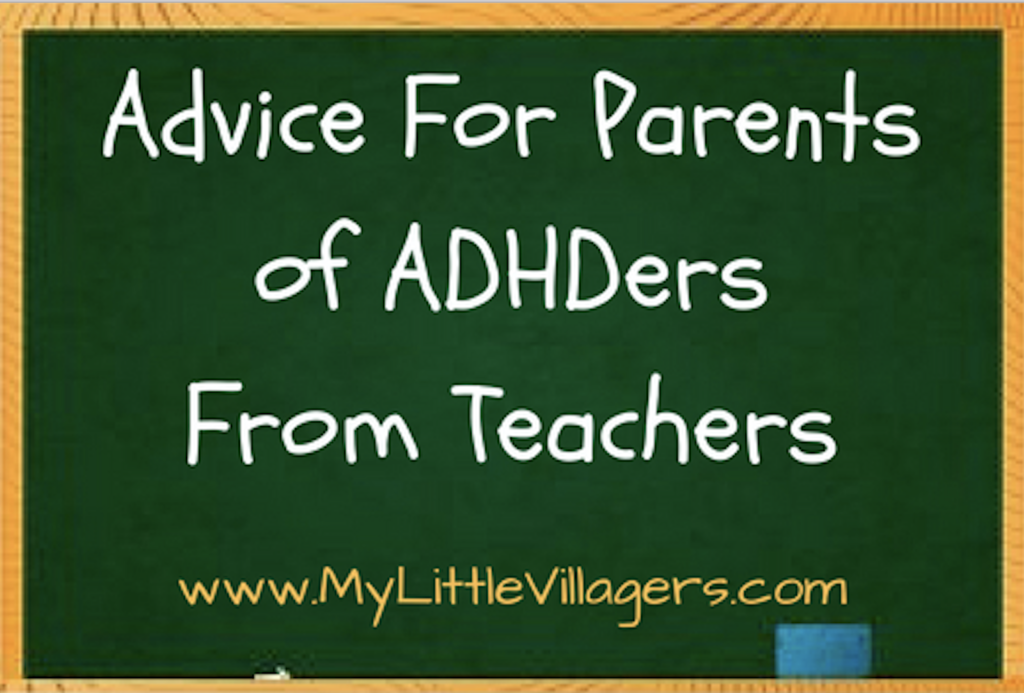 As we begin a new school year, parents everywhere are rejoicing and excited for their children to be heading back to school. It can be a bit of a different story if your child has ADHD (Attention Deficit Hyperactivity Disorder) or another learning disability though. Starting a new school year often brings stress and worry for many of these parents. We want our children to have a great start to a successful year, but we often don't know how to make that happen.
With the help of over 50 teachers who have experience working with students that have ADHD, I have compiled the very best advice they have for parents and here it is:
Advice For Parents of ADHDers From Teachers
At the beginning of the school year, let the teachers know what your child's specific condition is. Let the teachers know what works well for your child and what doesn't. Let them know what your child's triggers are. Don't be afraid to make your child's needs known and give the teachers some ideas of how to address them, because most teachers are very open to your suggestions.
Communication with the teachers should be ongoing throughout the year. If there is a change in medication, sleeping, eating, or any big life changes, make sure the teachers are aware of it. Some teachers suggested checking in with them on a weekly basis.
Share your child's interests and passions about your child with their teachers. It helps teachers connect with your child, especially at the beginning of the year when they don't know them well yet.
Know that the teachers are on your side and want to work with you and your child as a team. They want to help your child have a successful year just as much as you do. As one teacher put it, they want to become a "unified front" with you.
Don't wait for school to get too difficult for your child before you contact their teachers.
If they take medication, be sure to give them their mediation at the beginning of the school year. The start of a new school year is not the best time to have your child try going without medication, because they may miss important rules and procedures, as well as struggle socially.
During the year, be involved and supportive. Ask your child what is going well for them at school. Ask them what they enjoy in terms of instruction and curriculum. Share this with their teachers.
If possible, get to know your child's teachers better by volunteering in the classroom.
Educate yourself about what your rights are as a parent of a special needs student. Don't trust the school to inform you since it is often costly for the school and they have an interest in withholding information. (Thank you for your honesty, teachers!)
Help your child learn to advocate for themselves by watching you advocate for them. Teach your child to always be proactive about what they need in order to be successful.
When it comes to homework, teachers do not want them to struggle or become frustrated. Let the teachers know, so they can work on a plan that will help create little to no frustration for your child. If one thing doesn't work, try something else. Have patience. Remember that it is a marathon, not a sprint.
When teaching your child organizational techniques, it does not necessarily have to be the same things you would do or make sense to you. Always have your child in mind and do what would be the most beneficial for them.
At home, have routines and structure in your child's life. Try to find an activity they love that promotes movement, but also provides structure. Allow them to be involved in activities that build on their strengths. Also, make sure they are allowed downtime every day to give their overactive minds a rest.
As corny as it sounds, remind y0ur child of famous people who have/had ADHD and have helped shape the world.
Last, but not least, be kind to yourself. Being a parent of a child with ADHD is hard work and you're doing a great job.
And there you have it, parents!  Let's start the school year off right and hope for a fun and successful year for all of our children. Thank you very much to all of the amazing teachers that helped put this together and for helping our children succeed and soar in school!
If you enjoyed this blog post, please consider becoming an ADHD Awareness Contributor. You can receive free ADHD products, have you or your child featured as an ADHDmazing ADHDer of the week, choose the next blog topic, get name recognition for your support, and MORE.