This is a guest post written by Marie Miguel. Marie Miguel is an avid internet researcher. She is fueled by her determination to answer the many questions she hasn't been able to find the answer to anywhere else. When she finds these answers she likes to spread the knowledge to others seeking help. She is always looking for outlets to share her information, therefore she occasionally has her content published on different websites and blogs. Even though she doesn't run one for herself she loves contributing to others.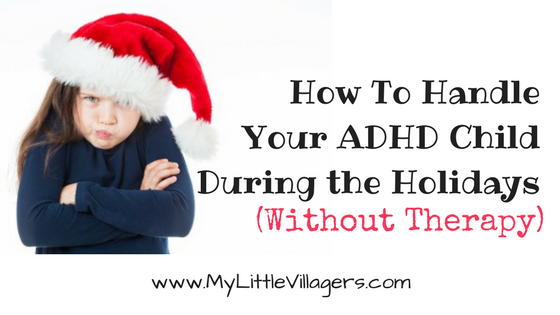 Parents of children with ADHD (Attention Deficit Hyperactivity Disorder) have a hard enough time dealing with everyday life, but the holidays can be a nightmare for some.  However, it does not have to be.  There are ways to make the holidays easier for you and your child, because let's face it, when things are hard on you, it is hard on your child as well.
It Really is About Structure
When school is closed, your child has way too much free time and anyone with children knows this is not good, even for kids without ADHD.  With a child that has ADHD, too much free time can be a major headache for everyone in the house.  Your child needs to stick to a schedule whether school is in session or not.
Now, I know this may be easier said than done, but to be honest, it is all up to you to set the schedule and it will make your life much more comfortable.  Here are some tips to help with schedules during the holidays:
Stick to a similar plan as you would during school.
Eat regular meals at set times.
Keep them busy with chores and other activities they can follow on a chore list.
Plan physical activities for your child, even when it is cold outside. They need to get plenty of exercise.
When visiting friends and family, be sure to list the rules and what the benefits of following them are on a "cheat sheet" for them to read and follow.
If your child takes medication, make sure your child takes his or her medication at the right time every day.
Find time to spend one on one with your child every day.
Make sure the rest of the family is involved in the planning and following of the rules.
Make A Calendar
Construct a calendar for your child that includes all the daily activities, things such as family outings, game night, and even meals. They can help by thinking of ideas of what they may like to do during their free time.  Hang the calendar somewhere you can both see it every day, such as the refrigerator.  Then make sure you both go over it every day, so your child knows what is going on and what he or she will be doing.
Set Rewards and Consequences
Be sure your child knows what  is expected of him or her and what he or she will get if they follow the rules.  Positive reinforcement is very important to those with ADHD and it can mean the difference between a holiday of horrors or a fun family vacation.
Make sure the details and instructions are in small increments and maintain eye contact when talking to your child.  Write things down and have him or her keep the notes as reward tickets, so they can turn them in later for their rewards after a day of good behavior.
This is essential.  Children with ADHD are not good with waiting so they need to be rewarded within a short period to have the best effect.  For example, if your child was on his or her best behavior at Grandma and Grandpa's house, he or she can turn in their reward ticket on the way home for a special treat, like playing their favorite video game for a hour longer than usual or staying up late to watch television.
Help Yourself Too
It is hard on you as a parent to deal with your child's ADHD along with other daily activities and responsibilities.  You need to take the time to help yourself too.  You may just need to talk to someone, like a friend or family member.  However, sometimes you need to talk to a professional to help you deal with your anxiety, depression, and other emotions you may be feeling.
Some online therapists and counselors can help you appropriately anytime you need them and no appointment is required.  Just go online and answer a few questions and they will find you someone trained in whatever you need to talk about.
If you enjoyed this blog post, please consider becoming an ADHD Awareness Contributor. You can receive free ADHD products, have you or your child featured as an ADHDmazing ADHDer of the week, choose the next blog topic, get name recognition for your support, and MORE.