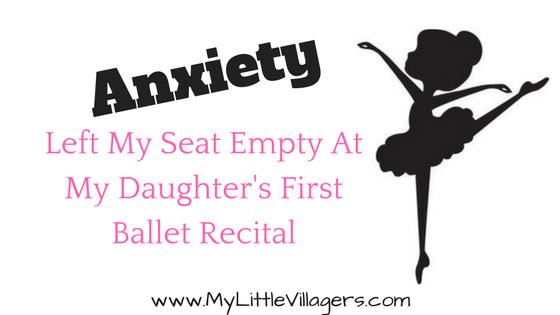 Before my daughter could walk, she could dance.  When she heard a song playing, she was moving her cute chubby baby arms to the beat.  Once she learned to walk, there was no stopping her from moving and grooving with her talented little legs.  When my baby girl turned three years old, I enrolled her in her first ballet class and she did absolutely amazing!  She listened to her instructor very well, followed directions great, and I feel she was one of the best dancers in the class.  All of her dance moves were on pointe. (Get it?  A little dance humor for you there.)
Fast forward two years later and my little ballerina is now five years old, which means she is old enough to participate in the dance school's grand ballet recital.  Dancing on the big stage in front of a large crowd with bright lights and loud music can be intimidating, especially for little kids, and this is why the dance teachers constantly talked about it with the students throughout the year.  I can still hear the dance teacher asking the class, "Is dancing on the big stage scary?" and the students answering with a resounding "No!"
Parents were also highly encouraged to talk with their kids about what being on stage would be like, which I did.  The teacher asked for two to three parent volunteers to be Backstage Moms at the recital.  I didn't volunteer, because 1. I had never been to a ballet recital before and I didn't know what to expect backstage, 2. I had seen way too many crazy episodes of Dance Moms, and 3. I didn't think my daughter needed me back there with her.  Whenever I talked about the recital with my daughter, she was always happy and excited.  Her little eyes would light up and she would get a great big smile on her face.  It felt like she would ask me when the recital was every single day.  When it was time to purchase her recital costume, I did.  When it was time to purchase recital tickets, I did.  I invited our relatives and they bought tickets as well.
The dress rehearsal was the day before the big recital.  I had asked my mom if she could take my daughter to the rehearsal, because I had to take my other daughter to an important doctor's appointment.  I told my mom it would be easy peasy for her since my daughter was so excited about the recital.  Man, was I wrong.
She won't get onstage.  That was the text I got from my mom.   I texted her back: What do you mean?  My mom then called me and told me that my daughter was scared, crying, and clinging to her.  She was refusing to go onstage, despite my mom, her teacher, and friends trying to help calm her down and give her words of encouragement.  I told my mom to tell her that if she goes onstage, I'd buy her a new toy.  That didn't work.  My mom tried everything she could think of to get her to go onstage, but nothing worked.  Absolutely nothing.  My mom had no choice but to leave the theatre and bring my daughter home.
When I got back from the doctor's office, I gave my daughter a great big hug and I sat her on my lap.  I asked her what happened at the rehearsal and she told me that she got scared, because she didn't want the audience looking at her.  I told her that it is okay for her to feel what she is feeling.  I never told her "Don't be scared," because honestly, I knew that wouldn't have done any good.  The same goes for telling someone to "Calm down."  Instead, I told her I was going to tell her a secret.  The secret was this:
"The only people that will be looking at you are your family, who love you very much.  All the other people will be looking at their dancer, not you.  All you have to do is go onstage, look at your teacher, do your dance, and get off the stage.  That's it."
That night, my daughter fell asleep easily, probably because she was so drained from crying earlier. I think our talk helped, but I could tell she was still nervous afterwards.  She needed more than just a pep talk and I already knew that bribing her with toys wasn't going to get her onstage either.  What she needed was to have faith and trust, oh, and something I forgot… dust.  Yep, just a little bit of pixie dust.
Before I get into the fairy magic I made happen while my daughter was asleep, you have to know that my daughter absolutely loves and adores fairies, especially Tinker Bell.  She says that fairies follow her around, she can talk to them, and she can always tell where they've been because they leave sparkles.  My mom (aka "Nonna") created a fairy garden in her backyard that my daughter visits every chance she gets.  To say that fairies are a big part of my daughter's life would be an understatement.  They are her entire world!
I had previously bought a light up figurine of Tinker Bell on my last trip to Disneyland that I planned to give my daughter when she was a bit older, but I decided to give it to her now and have it be a special gift from Tinker Bell instead.  I wrote a letter to my daughter from Tinker Bell, letting her know that she was flying over to watch her dance in her recital and reminding her to look for sparkles backstage.  (With all of the dancers running around back there in their glittery costumes, I knew there were going to be a lot of sparkles on the floor!)  I also knew that looking for sparkles would take my daughter's mind off of being scared and nervous.  I left the statue and letter out on the kitchen counter for my daughter to find in the morning.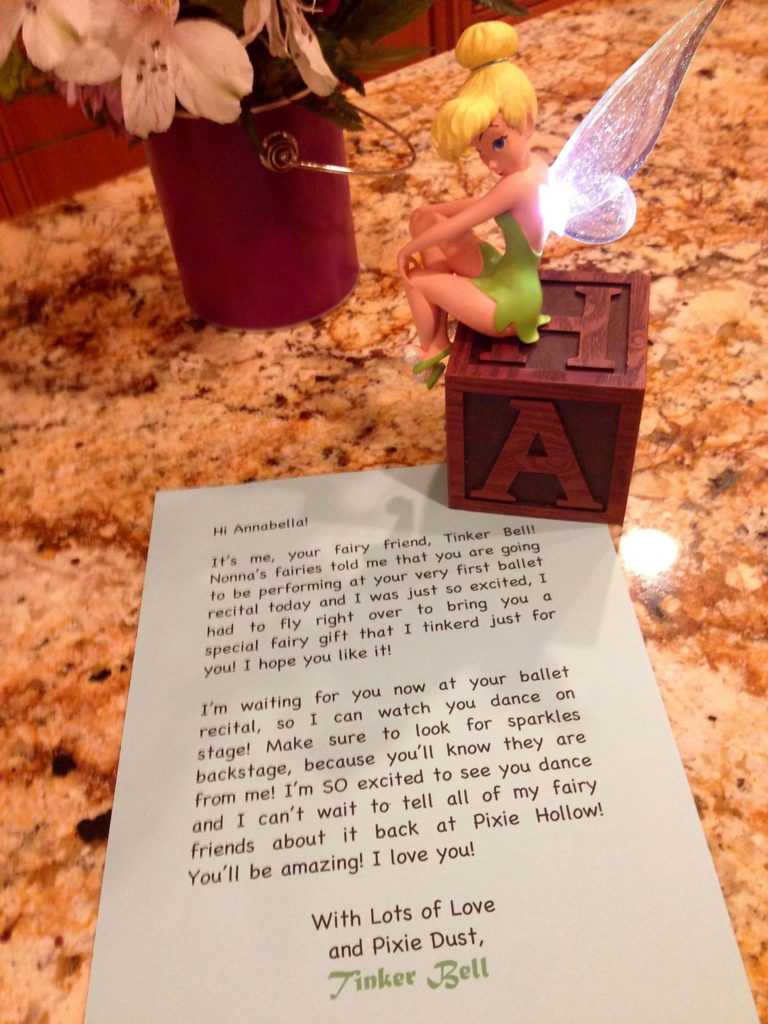 I don't think I've ever seen my daughter's eyes as wide as I did that morning!  She was extremely happy about the surprise Tinker Bell left for her.  She was practically radiating joy and excitement.  She couldn't wait to get to the theatre to look for sparkles backstage and to dance for Tinker Bell on stage!  Yes!  My plan had worked!
When we got to the theatre, I brought my daughter to the backroom and got her situated.  I helped set up a game of Candyland for my daughter and a couple other girls to keep them busy.  Soon, it was time for the parents to leave the room, so I gave my daughter a big hug and I told her that I was super excited to watch her dance and that I would see her after the recital.  I let go… but she didn't.
She began crying and not just little tears.  These were big tears streaming down her face!  She was yelling that she was scared and that she didn't want me to leave her.  I held her, dried her tears, and repeated all of the things that I told her the day before, but it wasn't cutting it.  She wasn't just crying now.  She was shaking, sweating, and her heart was pounding.  My baby girl was having a full blown anxiety attack.
I could hear the announcer telling everyone to find their seats and I could feel the eyes of everyone in that backroom looking at us.  I knew I was supposed to go to my seat.  I wasn't a Backstage Mom.  I wasn't allowed to be back there anymore.  Some of the other Backstage Moms and the kids tried to comfort my daughter, which I truly appreciated, but my daughter didn't need them.  She didn't need fairy magic either.  What she needed was just Mommy.  Just me.
So what happened next was that I just sort of, kind of never left my daughter and became a last minute Backstage Mom, which I never thought I would have done in a million years.  I sat on the carpet with the kids and played games with them, introducing them to the classics like Telephone.  I sang Moana's "How Far I'll Go" with them.  I interviewed the kids and asked them silly questions that made them laugh.  I helped give out snacks, made sure their hair looked good, and helped clean up.  This all came very naturally to me, because I am a retired daycare provider and I can honestly say that I had a blast being backstage with those girls.  The best part though was by simply being backstage helped my daughter feel less anxious, nervous, and scared.  I, on the other hand, was nervous about getting into trouble about staying backstage without permission, but to my surprise, the teacher, director, and theatre employees were all very supportive and appreciative that I decided to stay back.  Whew!
I am happy to report that because I stayed back to be with my daughter, that was all she needed.  Although I could tell that she was still a little nervous before she walked onstage, I had provided her with just enough confidence to get out there and dance her little heart out.  As always, she did amazing!  Although I never did get to sit in my seat I had purchased, the director pulled me aside as the kids were going onstage to let me stand directly next to the teacher while the kids performed.  I felt like I had the best spot in the whole theatre.  Tears filled my eyes and pride filled my heart as I watched my little ballerina dance onstage for the first time.  I will never forget that incredible feeling and I am blessed to know that I will get to experience it over and over, most likely as a Backstage Mom again, because I will always be there for my daughter in any way I can for as long as I can.
Someday, my daughter will be ready to let go when I tell her it's time for Mommy to leave (and I'm not just talking about dropping her off backstage at her recital).  I'm talking about when she goes away to college, moves out, and even when I die.  Thinking about those life changing events too long makes me cry, but knowing that my daughter will have the strength and confidence to handle them gives me such pride in being her mother.
Just keep dancing, my little ballerina, and Mommy will keep helping you, one step at a time.