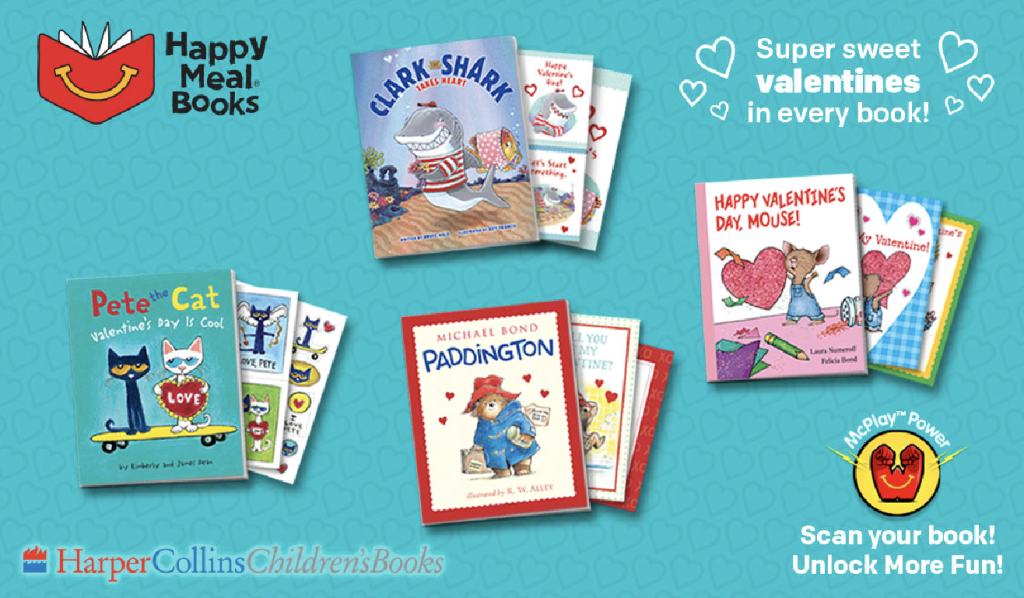 I just got back from McDonalds.  My three year old didn't have preschool today, so I thought I'd take her out for a little Mommy and Me lunch date.  I was surprised when the cashier didn't ask me if the Happy Meal was for a boy or a girl (which is something I hate in itself… but I'll save that rant for another day).  When my daughter opened up her Happy Meal box, I could see why I wasn't asked.
McDonalds is giving away books instead of toys in their Happy Meals through February 15th.  They are Valentine's Day themed books and each one comes with 1 large Valentine, 2 medium Valentines, 4 little Valentines, and stickers to decorate them with.  There is a "To" and "From" place in the back of the Valentines for your child to write names (or repeatedly write A's and O's like my daughter does). There are four books in the HarperCollins Children's Book collection:
Clark The Shark Takes Heart
Pete The Cat Valentine's Day Is Cool
Paddington 
Happy Valentine's Day, Mouse!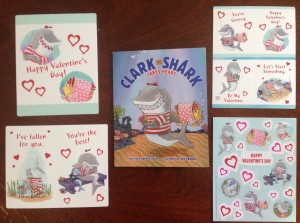 My daughter got Clark The Shark Takes Heart and instead of being upset that she didn't receive a toy like I thought she might be, she was actually more excited that she got a book.  She asked me to read it to her right away, which I did of course, because I can never refuse Storytime (I ran a daycare for two years).  The story was very cute and my daughter loved the Clark The Shark themed Valentines and stickers.  She's already decided who she's going to give them to on Valentine's Day.
I am hoping to get the other three books for my kids' book collection.  Yes, I realize that is way too many chicken nuggets and fries for a child to ingest within the next 11 days, so instead of giving the food to them, I plan on using this opportunity to teach my children about a different kind of love this Valentine's Day by giving the meal to a homeless person instead.  Read a book, feed the hungry.  It's a win-win!
I want to commend McDonalds on deciding to give children books instead of toys in their Happy Meals.  I think it is really great and I hope to see much more of this in the future.
"Da, da, da, da, da, I'm readin' it!"  🙂
Photo Credit: McDonalds