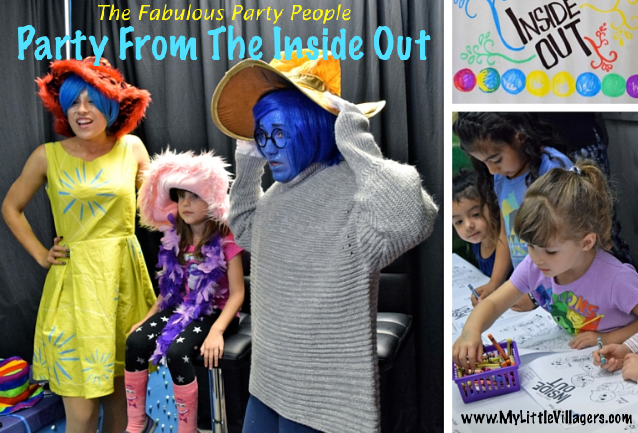 My husband, two daughters (Ages  6 and 3), brother, nephew (Age 4), and I attended a Party From The Inside Out event hosted by The Fabulous Party People, a children's entertainment company in the Bay Area specializing in birthday parties. This was our first experience with the company and I couldn't pass it up, because my children had the opportunity to meet some of their favorite characters from Inside Out, Joy and Sadness. It was very reasonably priced too. Tickets were only $5 per child and free for adults. Since space was limited, I bought my daughters' tickets in advance over the phone to guarantee their spots. My brother tried to buy his son's ticket over the phone as well, but was told he'd have to buy at least two tickets. He only needed one, so he bought his son's ticket at the door the day of the event. Luckily for him, he was one of the last five kids to get a ticket.
The event was hosted at The Fabulous Party People's facility located at 1661 S. Main St., Milpitas, CA. From the outside, it looks like a plain and boring office building, but as soon as you enter the lobby, you feel like you are magically transported to an enchanted Candyland castle! In the lobby, cupcakes, small bags of popcorn and blue cotton candy were being sold for $2 each, which served as snacks during the movie. By the way, both the popcorn maker machine and the cotton candy machine can be rented for your event for $65 each. I didn't see any drinks, but water was free for everyone and they even had free coffee for the adults. (Thank you, Fabulous Party People!)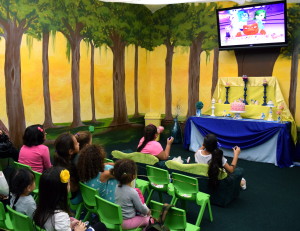 The children were greeted by Joy and Sadness when they first walked into the main room, where they were able to chat and take pictures. The women that played Joy and Sadness did a great job of being the lovable characters and were such a joy (no pun intended). The main room is decorated like an enchanted forest and has has an amazing tea party scene from Alice In Wonderland decorated on one of their walls. Rows of tiny green chairs were set up in front of the TV for the children with a sign that read "Reserved" going across them, which made the children who can read feel special. Rows of white adult sized chairs were placed behind the green chairs for the parents. There were two long tables on the side of the room with individual Inside Out coloring pages for the children to color and take home. There were little purple bins filled with crayons for the children to use and I am happy to report that all of the children did an excellent job of sharing, although there were definitely enough crayons for all of the children. Face paintings were being offered (for $5 I believe) and I saw some of the children with "Disgust" and "Anger" faces, which looked pretty cool.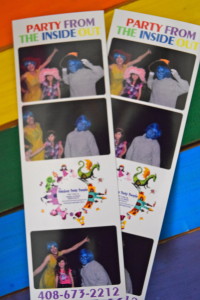 In one of the side rooms, there was a photo booth where children (and adults if they wanted) could take fun pictures with Joy and Sadness. They were even able to use silly props for the photos, like a big feather hat. My six year old took pictures with Joy and Sadness in the photo booth and she said it was her favorite part of the event. I know she will remember that moment forever, so thank you Fabulous Party People! For $5, my daughter got to take three different pictures with the characters and get two copies of the photo strips. I have to admit the quality of the photos isn't very good, but I wasn't expecting much from a photo booth. Besides, it was the experience that was more important anyway. The photo booth can be rented for your event too. Prices vary according to how many hours you need it with the cheapest option being $375 for three hours.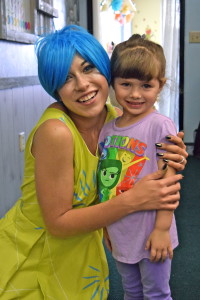 From the hostess to the cotton candy maker, the staff was all very friendly, polite, and cheerful. During the entire event, Joy and Sadness were interacting with the children and taking more pictures. They knew how to talk and act with children of all ages and they also knew when to take it slow with the children that had special needs or were just simply too shy. What I thought was also really neat too was the fact that the characters actually sat down on the floor next to the children and watched Inside Out with them. Not many kids can say that they got to watch the movie with the actual characters! As a retired daycare owner, I definitely know what children love and believe me, these children absolutely loved this Party From The Inside Out event!
I think the Fabulous Party People did a fabulous job (pun intended) and I am looking forward to attending their future events and possibly having them do my children's birthday parties. If you live in the Bay Area, I would highly recommend them for your child's birthday party too. They do other celebrations and holiday parties as well and offer a wide range of characters and party options. It's like a one stop shop for parents, which makes throwing memorable parties for our children so much easier. For more information, please visit their website.