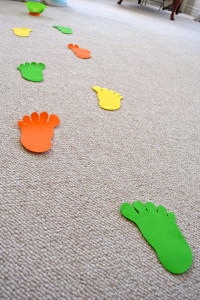 I did this activity with three children at my daycare on St. Patrick's Day.  They sure got a kick out of finding the leprechaun's footprints!  Since the children's ages ranged from 2 to 3.5 years old, the Gold Coin Questions I asked varied in difficulty.  It was so much fun to watch their little eyes light up with excitement as they received their gold coins and then counted them!
Materials:

8 Pieces of Foam
Scissors
Bowl
1 pack of Toy Gold Coins
Directions: 
Using rectangular pieces of foam (preferably green), cut out eight feet to represent Leprechaun's footprints.
Place the footprints on the floor to make it appear as though the Leprechaun was walking.
At the end of the footprints, set out a bowl of toy gold coins.
Have your child follow the footprints by carefully stepping on each one.  When they get to the pot of gold, ask the child a Gold Coin Question (Ex. "What is the color of the sun?") and if they get the answer correct, they can get a gold coin.  Repeat until the pot of gold is empty.  Then, watch your child's face light up as they count the number of gold coins they collected.